The performance gap between the ARCTIC MX-4 and Noctua NT-H1 will become significant only if you are interested in overclocking. So, if you want an efficient thermal paste, then the Arctic MX-4 is a better option since it's less expensive. But if you prioritize performance above anything else, then you'd want to buy the Noctua NT-H1.
At first glance, it is hard to tell which gives the best thermal efficiency between the Arctic MX-4 and Noctua NT-H1 thermal pastes, with only a minimal price difference.
Both compound pastes are high-end, and the resultant temperature difference between them is 1 to 2 °C, which is negligible.
It is a popular opinion that the ARCTIC MX-4 and Noctua NT-H1 perform similarly in real-world situations, but I had to purchase both products and test them separately. Here's what I found out:
In the rest of this article, I'll show you in detail why this is so.
These Are The Main Topics In This Article
Comparing ARCTIC MX-4 and Noctua NT-H1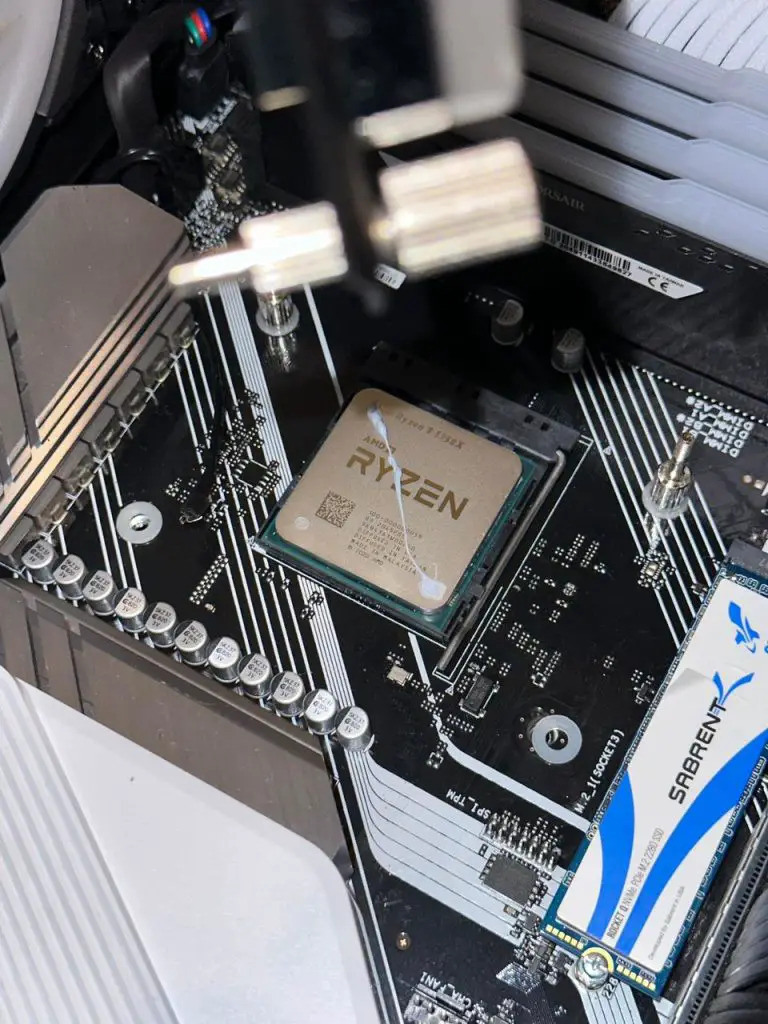 Testing
we conducted a test of both thermal pastes using the following criteria:
Based on the testing criteria for thermal pastes, we can evaluate the differences between the ARCTIC MX-4 and Noctua NT-H1 as follows:
Thermal Conductivity: the Noctua NT-H1 has a thermal conductivity of 8.9 W/mK, while the ARCTIC MX-4 has a thermal conductivity of 8.5 W/mK. This suggests that the Noctua NT-H1 should perform slightly better than the ARCTIC MX-4 in terms of heat transfer.
Ease of Application: Both the Noctua NT-H1 and ARCTIC MX-4 were easy to apply, with a non-conductive and non-capacitive formula. However, we noticed that the ARCTIC MX-4 is slightly easier to spread due to its more viscous consistency.
Curing Time: Both the Noctua NT-H1 and ARCTIC MX-4 were found to have short curing times, meaning that they should reach their peak performance quickly.
Durability: Both the Noctua NT-H1 and ARCTIC MX-4 were observed to maintain their thermal conductivity over 6 months when we conducted this test
Price: The Noctua NT-H1 (starting at $9.99) is slightly more expensive than the ARCTIC MX-4 (starting at $6,99)
After testing both pastes on a Noctua NH-U12P cooler and recording results at both stock and overclocked speeds. The tests revealed that both pastes performed nearly identically in terms of cooling performance.
As a result, there was no clear winner; instead, I recommend both pastes for their high performance and ease of use. For high-quality performance, I recommend the Noctua NT-H1, while the Arctic Cooling MX-4 is also available and performs well.
It is worth noting that both pastes are composed of materials that are not electrically conductive, which means that no matter what your decision is, it is good to know that none of them will impose a risk on your computer. They also share a similarity in density.
Here's the comparison chart I was able to come up with after buying and testing both pastes separately:
| | | |
| --- | --- | --- |
| Specification | Arctic MX-4 thermal paste | Noctua NH-1 thermal paste |
| Material Composition | Carbon Microparticles | Synthetic Oil Mixture |
| Viscosity | 870 Poise | 500000 Cps |
| Life Span | 8 years  | 5+ years |
| Available quantity | 2, 4, 8, 20, and 45 grams  | 3.5 and 10 grams |
| Thermal Conductivity | 8.5 W/mK | 8.9 W/mK |
| Density | 2.5 g/cu-cm | 2.49 g/cu-cm |
| Price | From $6.99 | From $9.99 |
My ARCTIC MX-4 Review
Temperature performance
Starting from the most important outcome, the thermal efficiency, I observed that the ARCTIC MX-4 performed impressively. I got about 67.5 degrees and 36.9 degrees Celsius for the GPU and CPU cooling, respectively.
Now, results may vary because other hardware factors influence the temperature performance of your build, but the temperatures obtained from using Arctic MX-4 speak volumes of its reliable thermal performance.
It explains why the Arctic does not publish information about the thermal efficiency of its compound but allows benchmarks to be the telltale.
Material and application
Applying the Arctic MX-4 is quite easy, and spreading it won't pose any trouble.
The paste is made of carbon microparticles, which allow it to transfer heat from the processor to the heatsink. This explains why it has a high thermal conductivity. In addition, it is metal-free and not electrically conductive, which makes it a high-end option.
Lifespan
On a comparative basis, the Arctic MX-4's longevity wins the vote on the lifespan argument without a doubt. According to the manufacturer, the MX-4 can last up to 8 years without getting dried up. While this is a great green light, I still recommend you replace it once a year.
Price
There's a bit of mixed feeling when it comes down to price because I've reviewed worthy alternatives to the MX-4 that are offered at a lesser cost. The Arctic MX-4 is available in many size variants, including 2, 4, 8, 20, and 45 grams.
I got the MX-4 on Amazon for $9 (incl. Spatula, 4 g), which is a little more expensive than the $8 I shelled out for the Noctua NH-1 thermal paste.
But is the slight price difference worth it? Let's find out.
| | |
| --- | --- |
| PROS | CONS |
| Safe thermal compound since it's made of entirely plastic | Not the best option for buyers on a budget |
| The 8-year application longevity is a good value for the money | Not readily available in some regions, compared to the Noctua NT-H1 |
| Higher thermal efficiency which makes it the perfect choice for overclockers |   |
My Noctua NT-H1 review
Temperature performance
It wasn't surprising to find out that the benchmark temperatures for the Noctua NT-H1 thermal paste test were 37.1 degrees Celsius for an air-cooled CPU and 68 degrees Celsius for an air-cooled GPU. It is well known that many high-end pastes, like these two,  have a performance difference of between 1 and 2 Celsius.
Is this difference a big deal? Not necessarily, as it depends on the use case. If you overclock, then the difference is quite significant. But given its lower price, the Noctua NT-H1 has a decent performance.
Still, it doesn't change the fact that the NT-H1 does not perform better than the MX-4 in terms of thermal efficiency.
Material and application
According to details on the NT-safety H1 document, the thermal compound is made of a synthetic oil combination. Although the manufacturer does not state this on the website where the product is listed, what is publicly known is that the NT-H1 does not conduct electricity. Application on the CPU surface is hassle-free, but it's not as smooth as the MX-4.
Lifespan
The longevity of the Noctua NT-H1 does not exceed 5 years and a few months. But if you keep it in storage without breaking the seal, it can remain usable for the next 3 years.
Price
The Noctua NT-H1 is the cheaper option. It's a good thing the performance wasn't sacrificed for affordability, as we see in most other thermal pastes on the market.
Weighing 3.5 grams, I was able to use the Noctua NT-H1 to run between 5 and 20 applications. But your experience will depend on the processor's size.
| | |
| --- | --- |
| PROS | CONS |
| Decent thermal performance was not sacrificed for its affordability | It doesn't have as much longevity as the MX-4 which means you have to reapply more often |
| You can use it for 20 applications and it has a 3-year storage period |   |
| No break-in phase required, ready to use out-of-the-box |   |
| Better availability |   |
So which should you buy?
Let us recall that the difference in temperature performance between the best and worst decent thermal compounds on the market is approximately 1 to 2 degrees. This comparison is no different. So you can go for the cheaper one, and you won't miss out on anything.
I was using the NT-H1 for a while, but I recently got the Arctic MX-4 (I own a Noctua NH-C12P SE14). From my experience, the MX-4 is easier to apply, and it spreads much more evenly. In terms of performance on another test, the NT-H1 got me 85*c max on my CPU while the MX-4 got me a max of 75*C-80*C depending on if I want the fans loud or quiet (I live in a cold climate.)
So what does this mean to you?
There's no massive difference between these two products, except if you are into overclocking. In such a case, performance is a priority, and you want to go for the Arctic MX-4. But both brands are reputable, so you can simply go for the cheaper option (Noctua NT-H1), especially if you are just looking to replace the stock thermal grease on your PC.
I hope this helps.