The major difference between Thermal Grizzly Kryonaut and Noctua NT-H1 thermal pastes is that Kryonaut has excellent thermal conductivity and low thermal resistance, making it a popular choice for high-end systems, while NT-H1 offers good performance at an affordable price point. The best choice will depend on specific needs and budget.
There has been an influx of performance-oriented thermal paste on the market in recent years, so it's understandable if you feel torn between the famous Thermal Grizzly Kryonaut and the popularly recommended Noctua NT-H1 thermal pastes.
I had to separately test these two products to closely examine the significant differences that they may have performance-wise.
When choosing the best compound paste to buy, you'd want to focus on the thermal conductivity rating listed on the product pages as well as user reviews because you can only know how these products perform after they have been tried out over prolonged periods.
We will also look at the temperature limits, package sizes, and other metrics that set these two products apart.
Comparing Thermal Grizzly Kryonaut and Noctua NT-H1 thermal pastes
| | | |
| --- | --- | --- |
| Specification | Thermal Grizzly Kryonaut | Noctua NT-H1 |
| Ease of application | Offered with a Mini Size Applicator | No Applicator |
| Available Weight | 1g, 5.5g, 11g & 37g | 3.5 grams |
| Compatibility | Desktop | Desktop & Laptop |
| Price | Between $7 and $70, depending on the quality. | $9 |
| Thermal Conductivity | 12.5 W/m.K | | 8.9 W/m.K |
| Temperature Limits | -250˚C to + 300℃ |   |
Image
Product
Detail
Price

Thermal Grizzly Kryonaut

Long-lasting stability even under extreme conditions.
Exceptional heat transfer capabilities.
Non-conductive and safe for electronic components.

Check Price on Amazon

Noctua NT-H1

Premium-grade thermal compound with high thermal conductivity.
Easy to apply and clean.
Not electrically conductive or corrosive.

Check Price On Amazon
As you can see in the table above, Kryonaut features a high thermal conductivity of 12.5 W/mK and low thermal resistance. This allows for efficient heat transfer, making it ideal for high-end systems.
In contrast, the Noctua NT-H1 has a thermal conductivity of 8.9 W/mK and offers good performance at a lower price point.
So your choice would be anchored on your specific requirements, such as the system's heat generation, budget, and use case.
Let me show you how these two thermal pastes performed so you have an idea of what you are about to invest in.
Thermal Grizzly Kryonaut performance
Thermal Grizzly Kryonaut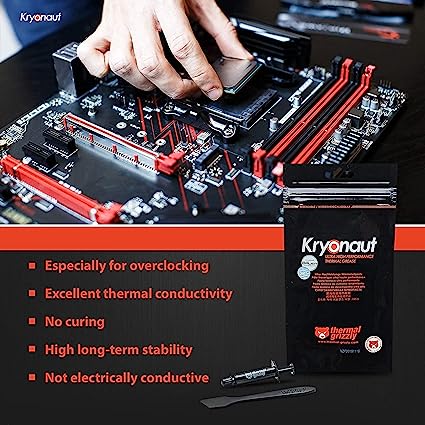 $8.99
The high thermal conductivity is a green flag.
It is best recommended for overclockers.
It is available in different quantity packages
Thermal Grizzly needs no introduction as a favorite brand when it comes to the thermal paste category. The Kryonaut thermal paste is offered with non-conductive thermal compounds and speaks volumes of its performance in terms of thermal conductivity.
From my experience with this paste, I can fully recommend it to a gamer who is primarily concerned with performance. With an extremely high thermal conductivity rating of 12.5 W/m.K. and 3.7 g/cm3 paste density, the Thermal Grizzly Kryonaut did a good job of overclocking.
This Thermal Grizzly product is offered in 1g, 5.5g, and 11.1g. The 1g pack does not suffice for more than three times of usage.
I tried to use a modest amount at each usage, but it still didn't exceed three times.
So, we can say it's quite expensive for its quantity but the quality of the paste is unbeatable. If you want a better value for the quantity, it would be best to consider either the 5.5g or 11.1g versions, but those variants do not make it any cheaper.
The bottom line is that the performance of the Thermal Grizzly Krayonaut hints at its idealness for overclockers. If you are an average consumer, then the high price would be discouragement, and that's reasonable.
Pros and Cons of Using Thermal Grizzly Kryonaut Thermal Paste
PROS
CONS
The high thermal conductivity is a green flag.
I speak for many buyers when I say the 1G variant is quite pricey, especially when compared with ones made by rival brands.
It is best recommended for overclockers.
 You can confidently use this thermal paste for both CPUs and GPUs.
 
It is available in different quantity packages to meet your size needs.
 
Noctua NT-H1 performance
The Noctua brand has been renowned for being a yardstick to measure the quality of CPU coolers and fans in the cooling products industry, so it's no surprise that it gets matched head-on with high-performance thermal pastes like Thermal Grizzy Krayonaut.
Unlike its successor, the NT-H2, which has a  density of 2.81 g/cm3, the NT-H1 has a thermal conductivity of 8.9 W/m.K. and a density of 2.4 g/cm3.
Noctua NT-H1 comes in a single-size package. The first bad impression I had about this paste was that no spreader was included, which made it challenging to apply the paste manually. But the silver lining is that Noctua often includes some NA-CW1 wipes in the package.
The brand has even reiterated that the paste spreads very well under the pressure of the heat sink and does not need a spreader.
But I would say that the Noctua NT-H1 is a better recommendation for a processor with HIS. If you are to use it with a graphics card or a processor without HIS, like in my case, you would have to spread the compound manually.
From my experience with the Noctua NT-H1, it is fair to conclude that one can expect a slightly better value than the Cooler Master MasterGel Maker. For one, it is offered at a lower cost but does not give out the best thermal performance at this price.
Noctua NT-H1 also has a slightly higher viscosity when you compare it side-by-side with competitors, so I can't entirely vouch for the reliability of this paste in the long run.
In addition, if you want more or less than the specified amount of paste compound, this may not be the right product for you because it has only one package size offering.
Pros and cons of using Noctua NT-H1 thermal paste
| | |
| --- | --- |
| PROS | CONS |
| Decent Thermal Performance | High viscosity |
| Three NA-CW1 Wipe | Offered in only one package size |
| Budget-friendly option |   |
Wrapping up
Thermal paste is probably the last thing you want to buy before fully finishing your build. But it is quite expected to be unable to choose if your pick narrows down to between the Noctua N1-H1 ($9) and the Thermal Grizzly Kryonaut (Between $7 and $70).
Many people do think that the Grizzly Kryonaut is the best thermal paste available on the market. That's fair. But when we consider it from a price-to-gram ratio perspective, the Noctua N1-H1 has a fair chance of becoming your favorite.
Temperature-wise, there is no significant performance difference between these two thermal pastes since it is just a degree less.
So you won't go wrong by opting for the cheaper one at the time.
You also need to consider availability. The Thermal Kryonaut is often not as available in some regions as the Noctua N1-H1. The shipping of Thermal Kryonaut thermal paste could take days, whereas the Noctua N1-H1 tube is often available at the closest local computer store.
This may not always be the case, but just so you know, it's probably not worth the wait.