Front panel connectors are important in power supply units. A power supply unit is a system that supplies the required voltage to a piece of electronic equipment. These front-panel connectors are also used in motherboards. They allow the motherboards to connect easily to your computer's case.
So, the front panel connectors appear to be quite useful. We will be providing you with tangible information that shows how useful they are. We will also be showing you what they look like and how you can easily locate them.
What are Front Panel Connectors?
The front panel connector is a system of connectors on your motherboard that you use in controlling power for other devices on your computer's case. These devices include fans, LEDs, power on, ports, beep code speaker switches, and power reset.
Front panel connectors are one of the most convenient ways that computer devices use to communicate with each other. These connectors help you to gain entry to the hardware settings and control panels with ease. You might not even have to open your computer's case.
The connectors are made of small pins used for specific electrical purposes. An example will be the power switch. This switch has two pins to that you can connect your case's cable. There are also two pins for the reset switch. So, the connectors are an important part of your computer's makeup.
A case with a front panel connector can come in quite beneficial. They help you in streamlining the design and installation process of your system. They achieve this by making connectivity options available on the inside of the chassis as opposed to behind the motherboard.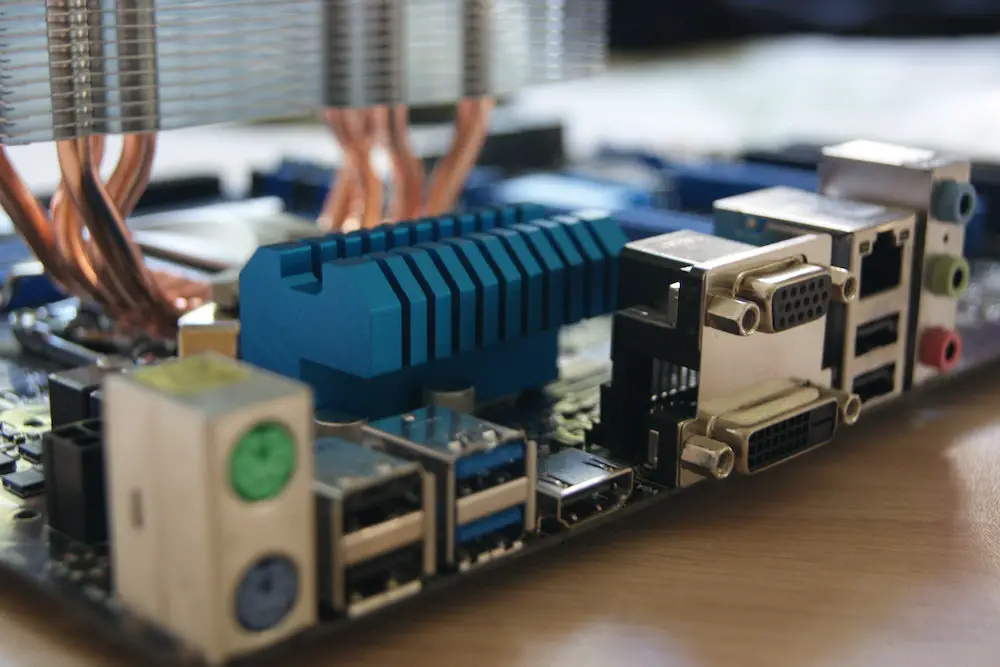 The connectors also help you with cleaning out the dust from your computer. One vital importance of these connectors is that they can help you start up your motherboard in case of a faulty power button. Touching the two power-on switch pins with the aid of a screwdriver will help your computer come on.
Just as we said, there are specific functions that these connectors have. So, let us consider some of the functions that all front panel connectors must have.
Power Switch Pins
Usually, your power switch is connected to this pin. It helps you in turning your computer on and off. It switches off your entire computer system.
Reset Switch Pins
This pin is used to reset the BIOS. It comprises a push-button that serves two functions of a cold and warm reboot.
Serial Headers
These headers come with two standard serial connections. There is also a plus feature of a mini serial connection.
LED Headers
The LED headers are there to help you in connecting your LED. This connection helps you to monitor components that include hard disk drives.
Speaker Header Pins
These pins help with connection to your computer's speaker. This can come in handy in showing you basic information about the system.
IDE Connector Pins
They help with access to the internal hard disk drives. They also ensure that there is no data loss during outages or a temporary disorders.
Molex Connector
In supplying power to the peripherals, these pins are crucial. If you have a graphics card on your computer, these connectors are not ideal.
PS/2 Connectors
These connectors are what aid the connection of devices like your keyboard and mouse to the motherboard.
Headphone Jack Pins
These pins aid in the connection of audio ports. The audio ports could include headphones, the mic on the front panel audio ports, and those at the backports too.
Related: Can You Put 2 GPU On Any Motherboard
What Do Front Panel Connectors Look Like?
For you to be able to identify the front panel connectors, the case covering them has to be taken off. You should then see a series of pins at this point. These pins will enable the connection of hardware devices to the motherboard. The image below shows a typical board of front panel connectors.
In most cases, you will see several connectors. Some are quite important than others. For instance, an LED connector ensures that your computer is well-lit up. Your reset is needed in resetting the BIOS.
How can I Locate My Front Panel Connectors?
Your front panel connectors are located on your computer's motherboard. So, that is where you will find them. If you are having issues locating them, you can consult your motherboard's manual.
There are two major methods you can use is locating the front panel connectors. They are:
Using a motherboard manual.
Using the labels on the motherboard.
So, let us look at them more explicitly.
1. Using a motherboard manual
The motherboard manual can come in quite handy in helping you locate your front panel connectors. Most manuals will show you each connector and what purpose they serve. If you follow them carefully, you should be able to understand. This will help in locating the connectors.
Something to note though is that these connectors are called front panel headers on some motherboards. They are still referring to the same thing, so don't fret.
2. Using the labels on the motherboard
By reading the labels on the motherboard, you can also locate your connectors. Start by looking for the pin headers on the circuit board of the motherboard. Different motherboards come with different labels. These labels indicate where the connectors are located.
You can also take a look at your motherboard's diagram. It can rightly tell what pins serve which purpose. It gives information about devices and their specific purposes. Those wires that connect to your computer's front panel are what the front panel connectors are. The label F_Panelis commonly used to indicate the panel.
Related: When to Upgrade a Motherboard
Where Do the Front Panel Connectors Go
Front panel connectors on a motherboard are typically located near the front of the computer case and connect various components such as the power button, reset button, hard drive activity light, power light, and audio ports.
The precise location of these connectors will differ depending on the motherboard and computer case you are using. They are usually grouped together in a single row or cluster, and they are labeled with the component or feature that they control.
It's critical to consult the motherboard manual to determine the exact location of these connectors and ensure that they're properly connected. Front panel audio, USB, and other features are also available on some motherboards. Double-check the manual to ensure you have all of the necessary connections in place.
Conclusion
The front panel connectors may seem unimportant. However, we have seen that they are an integral part of your computer. We have been able to define what they are and some of the purposes they serve. We have highlighted what these connectors look like. We have also seen how you can readily locate them.
The front panel connectors are useful in connecting with the motherboard. They also provide an endless list of functions. Some of those functions could be powered on or off. We know that we have been able to bring clarity to some of the confusion you might be having with these connectors.
So, make use of the information and get the best out of your connectors.