Deciding on what kind of motherboard you want to use is a critical step in building your computer. A motherboard connects all the hardware to the processor. It also determines the kind of devices that you can connect to your computer and it supplies electricity to them. Depending on why you need it, there is that Motherboard that will suit your budget.
Motherboards with type Care becoming the new generation of connectors and the new standard for connections involving USB. They are such kinds of motherboards that you want to have on your computer. Their popularity is growing by the day due to their simplicity and performance. These motherboards are symmetrical in nature and they have 24 pins built-in. Their symmetrical nature allows them to be plugged irrespective of the direction. These connectors help to get rid of every interconnection problem. They make connections between devices and cable replacements easy.
In this article, we will look at the best motherboards with type C available in the market. We will also help you make good buying decisions with the motherboards. So, let's get right into it.
List of the Best USB C Motherboards in 2022
Here we would be taking a look at some of the best USB C motherboards available on Amazon in order of their proficiency. We will be discussing each motherboard, their product specification and towards the end, there is an FAQ section and a conclusion part.
So, let's get started.
ASUS ROG Maximus XII Hero Gaming Motherboard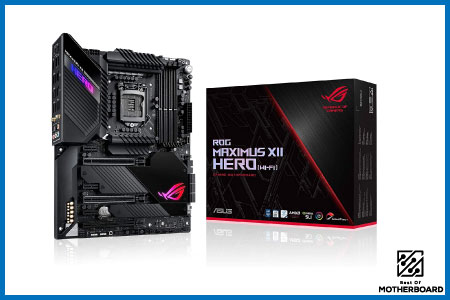 ROG Maximus XII Hero motherboard is the perfect motherboard for gamers. This motherboard has a smart cooling system, substantial power, and fast memory support. With features such as an AI overclocking, a low-noise AI cooling system, an Optimem III memory profile, and aura sync illumination, the ROG Maximus XII Hero is fitted to function excellently. It comes highly rated with a 4.7 product rating. It was carefully made with high-quality components that help to guarantee reliable power even when the CPU is pushed to its limits. These components include:
A dual ProCool II power connector.
MicroFine alloy chokes.
14+2 power stage.
10k metallic capacitors made in Japan.
This motherboard is made of three M.2 slots that allow you to take advantage of Intel IRST and NVMe RAID for SSD storage speeds. The drives are beneath the aluminum heat-sink cover. The Integrated PCIe support allows compatibility with the latest SSDs to ensure ultrafast transfer speeds.
The motherboard makes it possible to optimize memory for high-frequency settings or low latency settings. It combines the use of high capacity memory settings and a maximum frequency with the aid of Optimem III. This enables the motherboard to run applications that demand massive bandwidths. The ROG Maximus XII Hero has one of the best cooling systems out there. It allows you to track the coolant temperatures and the flow rate of the entire loop.
With one of the fastest gaming connectivity and high-fidelity gaming audio, the ROG Maximus XII Hero is one motherboard that gamers should not miss out on. These features draw anyone deep into the gaming action making the game desirable.
ASUS AM4 TUF X570 Plus Gaming Motherboard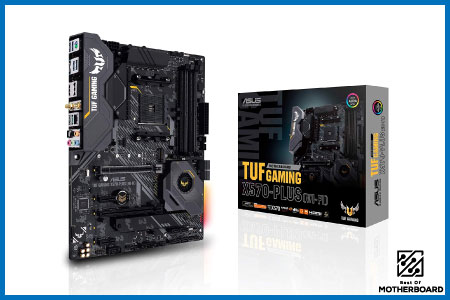 The TUF X570 Plus gaming motherboard fuses the basic elements of the latest AMD systemwith game-ready components and trusted durability. This motherboard features engineered designs that use military-grade components, upgraded power solutions, and a top-notch cooling system. They are certain to deliver a rock-solid performance with uninterrupted gaming stability. This motherboard is well recommended with a product rating of 4.7.
The TUF X570 Plus comes with power stages that fuse high-side and low-side MOSFETs into a single package, making sure to deliver the power and efficiency required by AMD's latest processors. It has a dual PCIe 4.0 M.2 slots that support up to type 22110 and a system that guarantees an incredible performance boost.
Related: Best Motherboards with HDMI 2.1
ASUS ROG Strix Z390-E Gaming Motherboard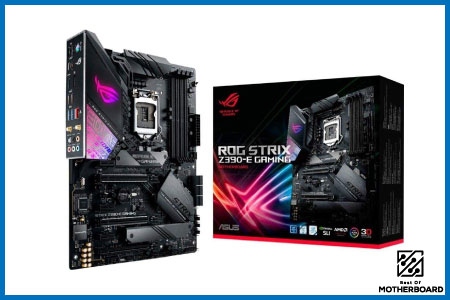 The ROG Strix Z390-E gaming motherboard provides you the opportunity for a gaming experience on Intel core processors of the 9th generation. It features a 5-way optimization system for dynamic control with AI overclocking. It also delivers maximum connectivity speeds and good DRAM overclocking stability. This motherboard is well rated with a product rating of 4.7.
The ROG Strix Z390-E gaming motherboard has a revised back-end with intelligence to overclock the CPU. This smart intelligence is based on smart prediction and thermal telemetry that allows for ease in overclocking that would usually take days of manual tuning. It also features one of the most comprehensive cooling systems.
Another thing about this gaming motherboard is that It has an integrated audio solution that is designed to provide a flat frequency response for a detailed sound system. The front panel output is made of dual op amps that deliver sonics with scale creating a virtual atmosphere via your gaming headset. It also features a pre-mounted shield for easy installation of the motherboard.
The ROG Strix Z390-E model has a strong PCIe device retention and a great resistance against shear. It also allows for simple and secure handling of memory modules. The motherboard is designed to automatically repair any boot failure that can arise from overclocking and instability.
This ASUS ROG model combines superior aesthetics and a sterling performance to stand out from the chasing pack. It provides full RGB lighting control and it can be synced with any aura-capable ASUS hardware.
ASUS ROG Strix B450-F Gaming Motherboard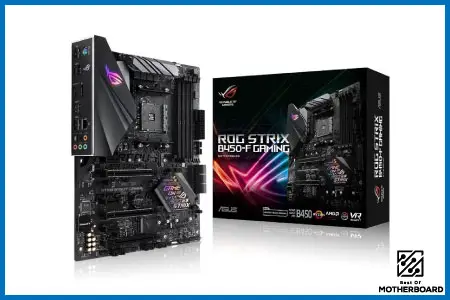 You can experience next-level gaming performance with the ASUS ROG StrixB450-FGaming motherboard. The 5-way optimization of this motherboard helps to unlock any system's potential while the Fan Xpert 4 feature helps to customize your build. The motherboard is so designed to deliver maximum connectivity speeds. This motherboard comes highly rated with a 4.7-star rating.
The exclusive AI Suite 3 system of the ASUS ROG Strix B450-F series provides you with optimal performance giving you a thrilling gaming experience. The dashboard-style control panel allows you to fine-tune every aspect of the system. It gives you a perfect blend of performance, cooling, efficiency, and stability through one simple and intuitive interface.
AndIt also features one of the most comprehensive cooling options ever. Just like the Z390-E gaming motherboard, the B450-F series has an integrated audio solution that is designed to provide a flat frequency response for a detailed sound system. The front panel output comprises dual op amps that create sonics with scale providing a virtual world through your gaming headset.
With a host of design touches, validation lists, customization options, and an array of diverse components, the B450-F series makes building and personalizing a gaming rig easy. The distinctive sleek of this motherboard is embedded with a cyber-text pattern, combining multiple gaming cultures to create a unique identity for this generation. You can also decide to swap the PCH sticker with an included alternative.
The ROG Strix series is known for fusing aesthetics and superior functionality to outshine the competition. So, they are motherboard series that game enthusiasts will find appealing.
Gigabyte Z390 AORUS Master Gaming Motherboard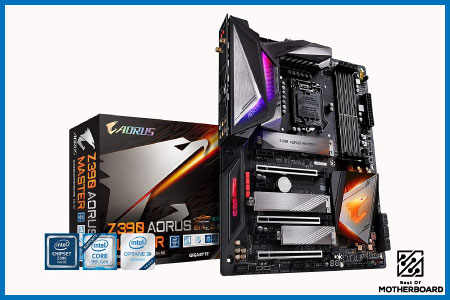 The Z390 AORUS Master Gaming motherboard is designed with considerations to thermal and speed qualities. They are engineered to ensure that users can take advantage of Intel 9th generation processors. This AORUS series comes with premium features and each board provides optimum performance in functionality and value. They are built with ultra-durable materials, so building a PC with these motherboards can be a strong foundation. They come in well recommended with a product rating of 4.6.
The Z390 AORUS series combines a perfect blend of style and performance. It comprises components such as a heat sink, a heat pipe, and a thermal breastplate. These components help the motherboard deliver low MOSFETs temperatures suitable for gaming enthusiasts and professionals. They have a comprehensive audio suite that makes it possible to have playback for surround audio. SD-enabled music is easier with these motherboards. They have capacitors that provide power to the overall system to ensure that the sound is top-notch.
These AORUS motherboards are layered with ultra-durable protection that provides users a strong foundation in building their systems. The thermal guard system embedded makes it easy to dissipate heat and prevents throttling and bottlenecks from high speeds. They also come with a USB turbocharger to recharge android and apple devices.
The Z390 AORUS series have a wireless solution that enables gigabit wireless performance, providing you with smooth video streaming and a better gaming experience with high-quality speed levels.
MSI MPG X570 Gaming Pro Carbon WIFI Motherboard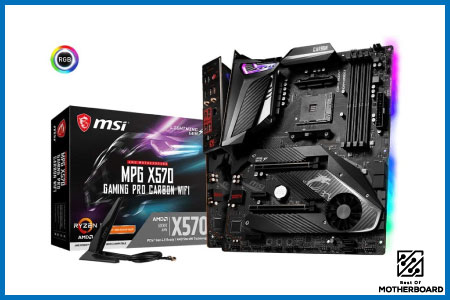 The X570 Gaming Pro Carbon WIFI Motherboard is built for high-performance gaming. The motherboard has a high intense speed look and a high-performance AM4. It has components such as an advanced gaming system configuration, a core boost, dazzle onlookers with a carbon finish, Wi-Fi 6, and mystic light RGB that allows you to game in style. The motherboard comes with good recommendations with a product rating of 4.6.
The core boost embedded in this motherboard is the latest technology of MSI's power delivery system. The highly efficient power system of this motherboard is due to the premium power delivery components engraved on an optimized circuit design. This allows the motherboard to deliver adequate power output to the CPU.
In addition, the X570 Gaming Pro Carbon WIFI motherboard comes with a heating system that maximizes the SSD performance and prevents any slowdown. This also allows it to resist thermal throttling and deliver optimum performance. The X570 chipset helps the motherboard to deliver high performance and still control the heat. It has capabilities that actively cool down the system to sustain large data bandwidths.
The X570 Gaming Pro Carbon WIFI motherboard is built with a mystic light RGB system that allows you to customize your system with several colors and effects. It also has a two-way technology that optimizes data transmission processes and delivers high-level speeds. The motherboard has an audio 4 technology that provides impressive sound experiences.
Gigabyte Z490 AORUS Ultra Gaming Motherboard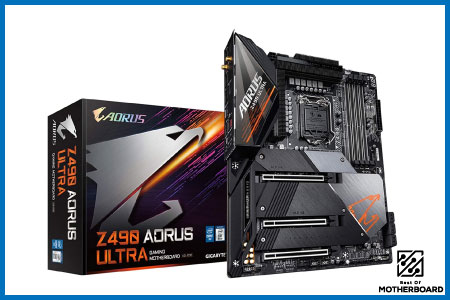 The Gigabyte AORUS Z490 motherboard comes with some high-quality features that deliver one of the best gaming experiences. With a product rating of 4.5, it is well recommended by gamers all over the globe. The Intel Wi-Fi 6 and 2.5 GbE LAN features allow you to enjoy smooth and uninterrupted video streaming, minimize dropped connections, and offer a better gaming experience.
It has a comprehensive thermal reactive solution that allows for excellent heat dissipation. This solution makes it possible for the motherboard to stay cool even in full loading conditions. This makes it appealing to game enthusiasts, professional gamers, and over-clockers. This AORUS version comes with upgraded compatibility with faster memory profiles.
Also, it features a new shielded memory design that minimizes noise and electrical interference. The Gigabyte AORUS motherboard also supports 10th generation core processors. This is another quality motherboard that gamers should not take a chance at not having.
Frequently Asked Questions (FAQs)
What are the best motherboards?
It all depends on the kind of PC you have or you want to build. We have listed above some of the most recommended motherboards out there.
Which motherboards are good for gaming?
Gaming PCs need special motherboards that can handle extra processing loads, which can supply adequate power, high-quality sound, and speed levels. Some of the motherboards we have highlighted above definitely fit into this category.
Do motherboards have USB-C ports?
Conclusion
Motherboards are a very critical part of your computer system and they are not all the same. There is always that motherboard that will suit your purpose and budget. You must however first determine what the motherboard will help you achieve and the components you need. We have listed some of the best motherboards that can help you in making the right choice.
If you are looking to build your computer yourself, this article will come in handy too. You should take advantage of this article in experiencing the power of USB-C on your next computer.